Yesterday I ran my first half marathon. The Madison Mini is an annual race that has taken place in Madison, Wisconsin for the last 15 years. Around 2000 participants ran this year between the half and 5k events. Temperatures were in the mid 60s and could not have been more comfortable for a run.
Before the Gun
Early in the morning at my house things started out poorly as I shot out of bed worried about not being able to pick up my bib. "Day of" packet pickup was stated not to be allowed unless a fee had been paid. I did not pay the fee and had forgotten about driving to one of the designated car dealerships the day before. I soon reasoned that there's no way I'd simply be turned away at the registration booth because of this, and I was right. I would instead be billed $25 for not looking at a new Lexus.
I pinned on my bib and joined my group of fellow trainees for a group photo. The past 10 weeks I have been joining most of them twice a week for training runs, though only running with a handful of them due to our pace. And among them a woman named Carol had been the only consistent running partner. Carol's 65 years of age and has run multiple full marathons including this year's Boston Marathon. She's kept me good company the past 10 weeks and familiarized me with my "talking" pace, given our light conversations.
Photo taken, I went to find the portapotty lines and do my best to avoid issues during the race. Success was had on this front and with a bit more effort I found my way into the heavily barricaded starting corral. I saw others using this area for warm up runs and I did the same along with some of the dynamic exercises I'd learned during training. After this I found my desired pacer, a man holding a sign for a 1:50 finish time or 8:40/min pace.
The Early Stretch
My mom found a place to stand off to my right as the national anthem finished playing. The crowd of some 1500 runners edged toward the start line as the loud MC started the countdown. Then an air horn started the run. I started my watch after a slow shuffle towards the starting line and kept an eye on my pacer.
The first couple miles started east toward the capital square. The energy was enormous and I fully enjoyed the sound of hundreds of foot steps all around me. During the first few blocks I felt hyper sensitive to every tiny sensation in my legs. Is that a pain? Will I crumple to the street before mile 2? But after about 10 minutes my nerves calmed and I entered into cruse control.
Running on one of the older, rounded streets off the square, I moved up ahead of my pacer to avoid the angle and soon found my pace creeping to 8 min / mile. This felt good to me and I felt comfortable to continue this way.
By the time we approached Mill St. to make the turn toward the arboretum, I found myself with a different group of runners. There were small cliques of 2 - 3 people around me, some heavy with conversation. Their ease with running made me feel comfortable and I really settled into an enjoyable part of the race. Within the arboretum we ran with a slight breeze under the shady trees. A group of wild turkeys spectated from the side of the road and the views of Lake Wingra to the right were lovely.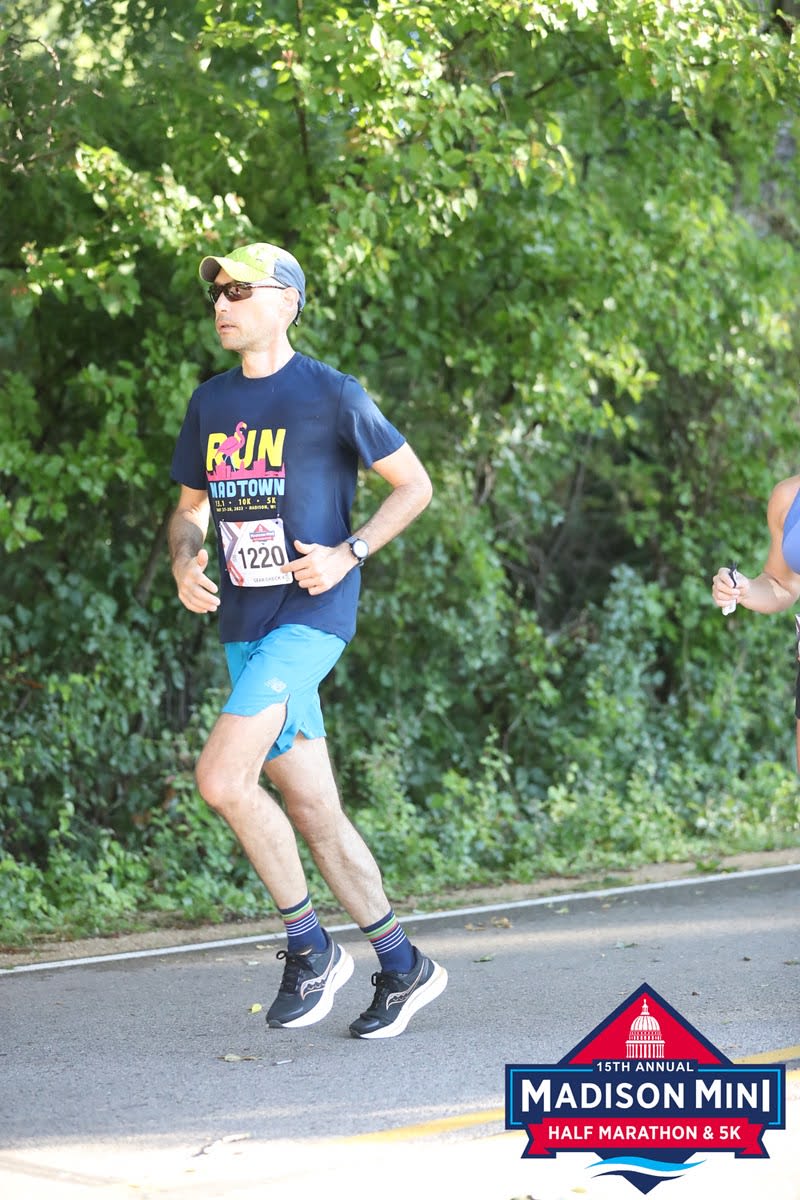 The Middle
I would occasionally bump up my speed to get past a chatty group whose conversation I'd gotten bored of. Roadside supporters held signs for their sons/daughters/wives etc. A surprising number of these targeted individuals seemed to be running near me (go Jordan!). In one case a runner's husband or boyfriend, not in the race, ran along side us on the sidewalk to support her. Other friends of runners would pop by on bikes to say hello and discuss where such and such was on the route.
Between miles 8 and 10 I started to feel the work my legs were doing. Close to mile 10 we took a left off of Regent Street and passed the Camp Randall stadium where I'd once seen Pink Floyd. There, a couple held a sign that read something like "You've Got This, Random Stranger!". I pointed at them and shouted "Hey, I'm a random stranger" to which the guy replied "What?", "I'M A RANDOM STRANGER". They responded then, gleefully: "Ya you are! Woo!".
Reaching mile 10, my legs were now definitely starting to fatigue and my left hip, though not painful, was feeling a bit of pressure. We were on a path near the trail to Picnic Point. With the turn around just ahead, faster runners were heading back in the other direction to my right. Here I recognized Matt from our training group. "Hey Matt!" I shouted. After a moment he shouted back: "Hey Daniel! Have a good one!". That recharged me and the stiff feelings in my legs lifted significantly. After the turnaround I kicked up my pace and started passing people.
It was the last couple of miles now and I could stop worrying about conserving stamina. I reached a quiet stretch where everyone was either a ways ahead or behind me. A lone college student under a tree cheered passers by. "I'm so lonely" I shouted at him. "What?", "I'M SO LONELY". "Awwwe", he whimpered.
Back out on the streets now and approaching mile 12, I saw our coach, Megan as we rounded a corner. I waved and she shouted: "Carol's just ahead, you can catch her!"
I had been wondering where my training buddy was, and sure enough I could see her short white hair and unusual gate just ahead. It was at the start of the course's major hill up Observatory Drive. She was stopping and stepping off the road ahead and I worried that something was wrong. But then she quickly got going again.
The Hill
"I finally caught you!" I said as I reached her. She was having problems with her back, having had surgery there. Knowing she wouldn't want me slowing for her, I quickly said bye and charged up the hill. This was the hardest part of the race. I was soon heaving and so where others around me. One girl sounded as though she was literally dying as I passed her, vocalizing loudly with each exhale.
I'd saved plenty of energy for this and made it to the top without having to slow much. I felt the corners of my mouth creasing to a slight smile.
Shortly there after, a pair of women where talking behind me: "I know you don't know me, but I was just diagnosed with MS yesterday, and I'm running this anyway". I turned around could only think of saying "Hell ya" with a thumbs up. Then I could feel my throat tighten and tears pushing against my eyes. Behind me I could hear her crying.
The End
Pushing my pace a little harder now and experiencing some ambivalence about what we were all doing here and the privilege of having a healthy body, we turned onto University Ave. Just ahead was the final turn to the finish line. After I made that turn, I pushed my pace to near maximum and just ran really fast. I finished with a time of 1:42:39.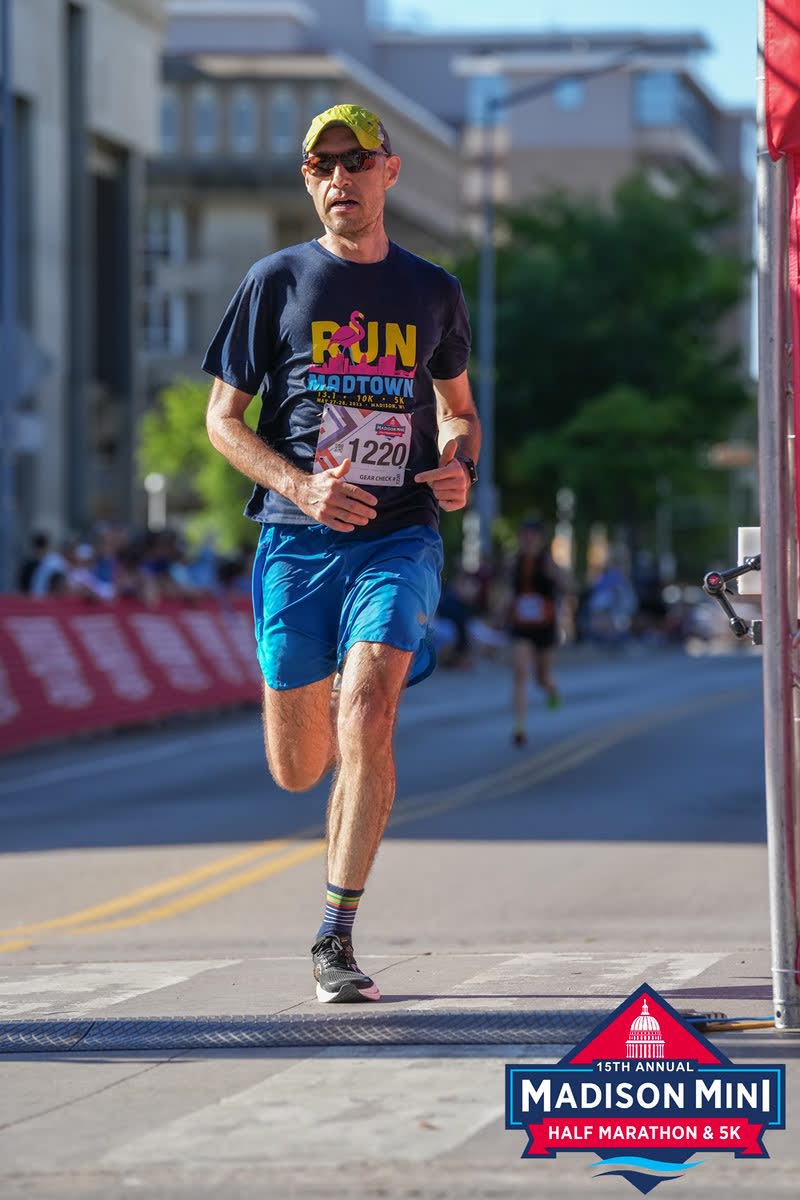 Extrapolating my finish time out to a full marathon, this would not qualify me for the Boston Marathon in my age category. But as my first half marathon, I am satisfied with this result.
On the other side of the finish line I found a bottled water, finisher metal, banana, Clif Bar and some other small granola treat to give to my mom who was nowhere to be found at the moment. I also found the backdrop for race portraits. I stood in front of it and opted to have my photo taken while holding everything I'd collected.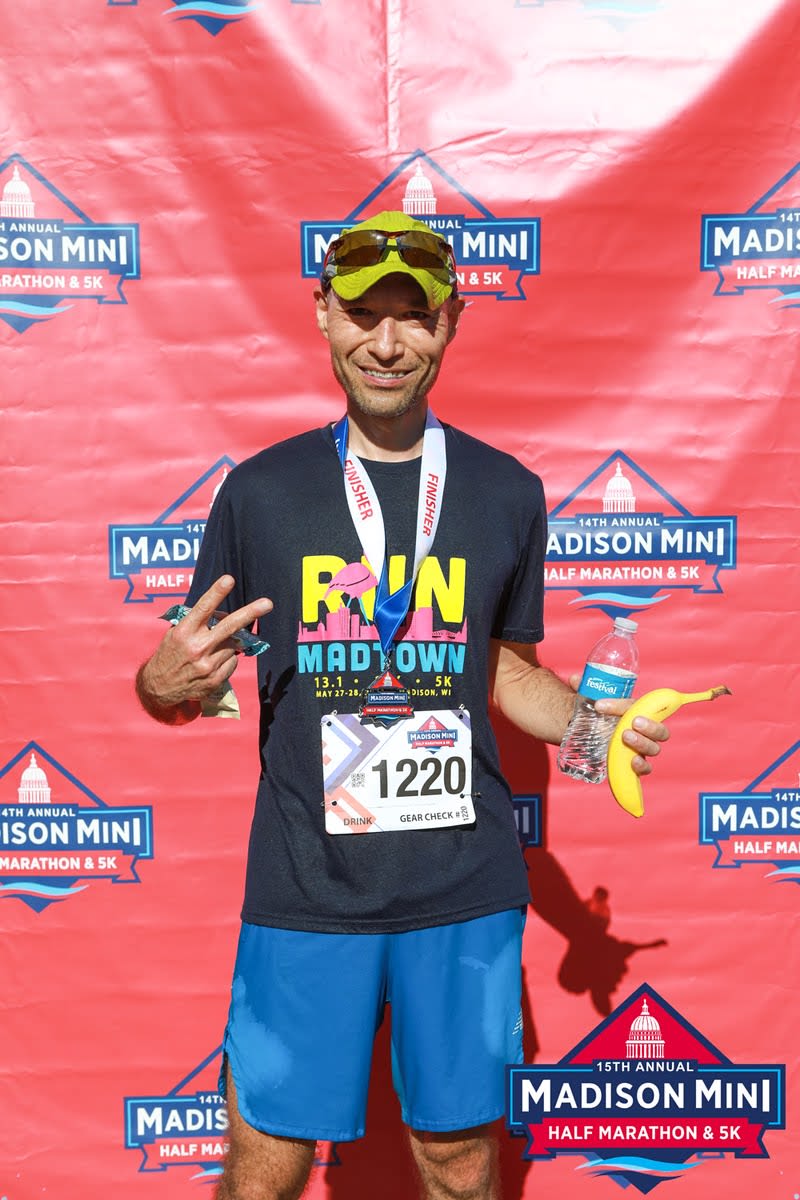 I soon found Carol and my mom, the later bearing a foil pan with 2 huge pecan covered cinnamon rows. She'd been at the farmers market on the square during my run. I asked her if she had a fork, she did.
What's Next?
By the end of the day, back home, I'd registered for a 3rd half marathon for this year. One month from now I'll fly to Seattle Washington and participate in Beat the Blerch. This is a race organized my Matthew Inman, creator of TheOatmeal.com and several books, games and probably some other things. I'd been a fan of his work for many years now. In fact, his humor about running is partly to blame for my running career. I plan to heave that blame onto his shoulders if I get the opportunity at this race.
Then in October, I'll run in S'more Fun Trail Run which will happen right next door to me at Mirror Lake State Park.